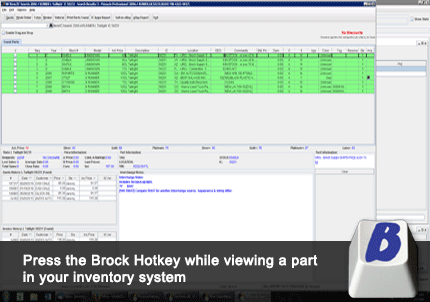 The Brock Hotkey is a small program that simplifies how you look up parts on BrockSupply.com. At the press of a button, it takes the Hollander# from your inventory management screen and opens our website to that part's page for availability, pricing, and ordering.

Download the latest version
5.4 MB
Brock Hotkey works best with Pinnacle Classic, Pinnacle Pro, Checkmate, Powerlink, Fastbook, and Hollander eBook
---
Setup & Troubleshooting
After installing the Hotkey, find the B icon in your taskbar and right-click on it to access the Settings menu.

Choose which key you'd like to use for the Hotkey, and make sure the correct Business Software is selected.
Tip
- Sometimes the Hotkey will not work if the key selected already performs a function within your business software. If your Hotkey isn't working, try assigning a different key or combination of keys.
Make sure your inventory system is the
active
window on the screen when you press the Hotkey.
If your invenotry system connects through a remote session, the Hotkey will only operate if the session is
not
being run full-screen.
Still having trouble?
Contact Us
for additional assistance.