Jerry Brock Fixing Up Historic Tempe Cemetery
Arizona Republic, July 16, 2020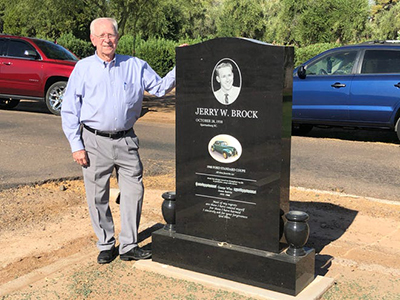 Jerry Brock has donated $10,000 to the Tempe Historic Preservation Foundation to come up with an improvement plan for Double Butte Cemetery in Tempe. "If you don't preserve these historic sites, then the soul of your city disappears," said former Tempe Mayor Hugh Hallman, who's on the foundation's board. Jerry Brock's idea is to partner with the city and private donors. The cemetery has been privately and publicly owned over the years, and maintenance has been spotty. The city owns it now, but finances are tight. Brock will match what others donate. He donates money to the city every year for projects and to community organizations. It's why he's worked hard over the years, so he can help. "I've always tried to do things for other people," Jerry said. "I don't think I'm a saint or anything."
---
ABPA Member Highlight: Brock Supply
Automotive Body Parts Association, May 22, 2017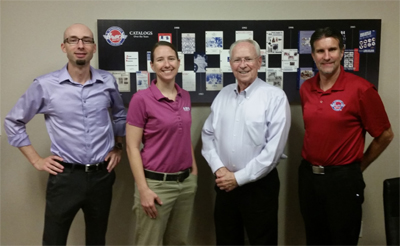 While traveling through the low desert of Arizona for the annual CCC conference held this year in Phoenix, I reached out to long time member Brock Supply. I previously had the pleasure of meeting Chris Walsh of Brock Supply at a recent AAPEX show. Chris was gracious enough to invite me for a facility tour of their headquarters located in Tempe, AZ.
---
Jerry Brock Receives "2014 President's Award"
from the Automotive Recyclers Association
Automotive Recyclers Association, October 28, 2014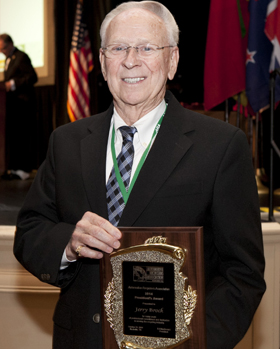 Professional Wholesale Automotive Executive and Business Owner Jerry Brock of Brock Supply Co. was awarded the prestigious "2014 President's Award" from the Automotive Recyclers Association (ARA) at the 71st Annual ARA Convention & Exposition in Nashville, Tennessee, October 22-25.
---
Cafe Pays Tribute to Detroit Dream Cruise
Appeared in the Arizona Republic, August 15, 2014 - by Nick Gallup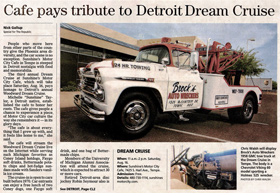 Jerry Brock, Chris Walsh, and others attended a cruise-in car show at Sunshine's Motor City Cafe in Tempe, Az on Saturday, August 16. Our 1958 Chevrolet Viking 60 / 525 Holmes Wrecker was brought out to help make it a great show.
---
Jerry Brock Honored by Key Recognition for Charitable Giving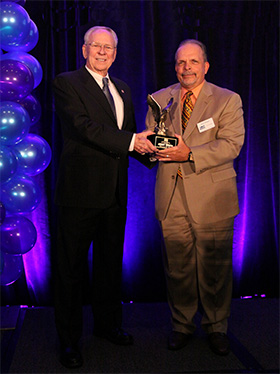 Tempe, AZ - March 7, 2014: Jerry Brock of Brock Supply Co., a national auto parts and supplies wholesaler, was presented with the Spirit of Tempe Award by the Tempe Chamber of Commerce. The award was given in recognition of what the Tempe Chamber describes as a "lifetime achievement of service, dedication and contribution to the community and honors hard work and strong commitment to improving the quality of life in Tempe," and is given annually to only one recipient. Click for the full article
---
Step Up and Meet Brock Supply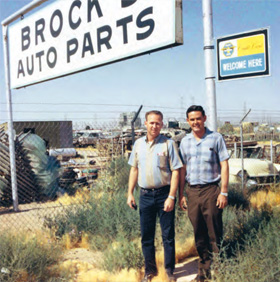 Jerry Brock and Al Unser, Sr.
As a young boy growing up in the 1950's, Jerry Brock worked at his father's auto dismantling business in Tempe, Arizona. He learned a great deal about the automotive salvage industry from working with his dad, but most importantly he saw the value of having a good work ethic.
Brock realized very early in life, the key to running a successful business is a willingness to work hard and always be a man of your word; qualities which helped him establish his own recycling facility in 1963.
---
From There to Here: A History of Transporting Cars to Auto Recyclers as Remembered by Industry Founders
by Michelle Keadle-Taylor
Auto Recycling magazine, January-February 2013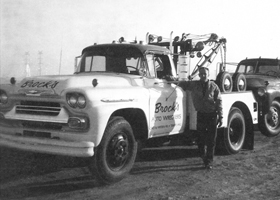 Jerry Brock was interviewed for part of this story about an important part of the automtove recycling industry's history. Jerry explains how he owes a large part of the success of his business to his tow truck.
---
Tow Story: Brock Supply CEO restores a vehicle that launched his lucrative career in wholesale auto parts business, and displays it at this year's ARA annual convention.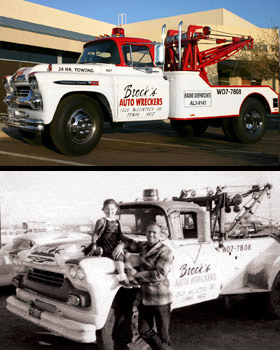 Fifty years ago Jerry Brock was a young man working in his auto salvage yard in Tempe, Arizona. Today he has built a reputation as a national leader in the wholesale auto parts industry through Brock Supply Co., which has over 400,000 shipments a year and growing. The catalyst for such tremendous success is an unlikely source, a 1958 Chevy, Holmes 525 Wrecker.
In the 1960s Brock was responsible for towing wrecked vehicles that he had bought for his salvage yard. Soon however, with the addition of reliable radio equipment, Brock was busy towing for the Tempe Police Department, Maricopa County Sherriff's office and the Arizona Highway Patrol. As word spread of Brock's responsiveness and availability, demand for his services grew.
---
Brock Supply breaks ground on Terrell facility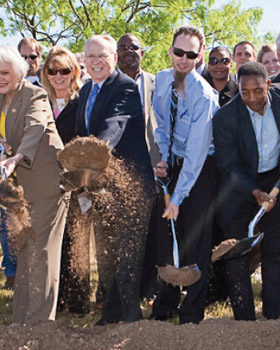 State and city government officials and business leaders from various Terrell entities were on hand April 27 to break ground on the site of a future Brock Supply Company warehouse in the Metrocrest business park on the west side of town.
Jerry Brock, the company's founder was very happy to be expanding his company at a time when many firms are looking for ways to cut back.
"We feel fortunate to be doing well enough to expand at this time, we are pretty optimistic about it," Brock said.
---
A Look Back... The Brock Hotline Network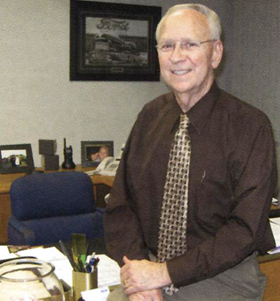 Jerry Brock got started in the hotline business with an idea, a clipboard, and one person agreeing to become a member of the auto parts hotline network that eventually grew to 200 automotive recycling companies. Before computer technology became commonplace, telephone "hotlines" were used to connect auto recyclers for the purpose of locating, buying, and selling used auto parts.
The phone, speaker, and lines were generally supplied by the American Telephone and Telegraph Company (AT&T) and were available to members 24 hours a day, 7 days a week. When a member needed a part, he would broadcast it over the network. If another member had the part, they would answer and price the part, and a deal was made.
---
Long-Time Business Owner Jerry Brock Has Fun With Auto Recycling, Hot Lines & Recycling Supplies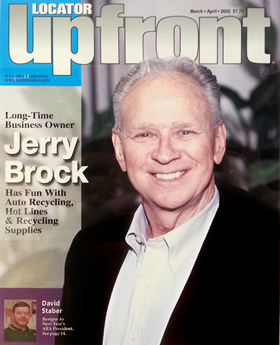 Today, Brock is best known as founder and president of Brock Supply Co., whose 35 employees and 50,000-square-foot warehouse are responsible for shipping 75,000 packages a year. There are few auto recyclers in the country, said Ware, that don't use a Brock Supply item, whether yellow markers or engine stands.
But that's far from Brock's only contribution to the industry. He is a second-generation recycler whose roots date to the early 1950s, when he worked for his family before starting his own business in 1963. Also part of his legacy is the B & B hotline, which he ran for almost 25 years.
"Jerry, from the time I met him when he was just getting started as a recycler to today, if he told you something, you could put it in the bank," said Herb Lieberman, the recent past president of ARA and a recycler for more than 40 years.
---
At a Glance Brock Supply Co. - Tempe Arizona Hot Business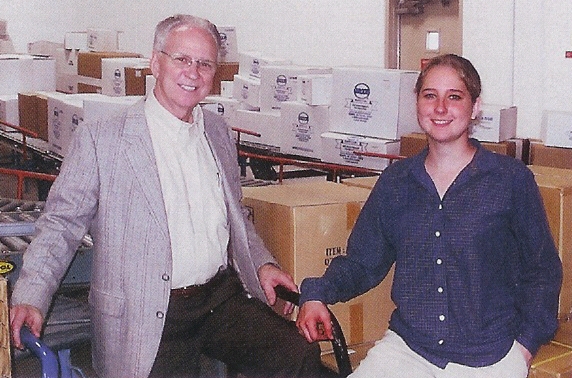 "Brock has always been dedicated to getting customers what they need as quickly as possible. [...] Customers are important and good service is essential"
Jerry Brock, founder of Brock Supply Co., has been servicing the Automotive Recycling Industry for many years. Before becoming a parts supplier, He learned the basics first hand at his own recycling facility he established in 1953. That business led to the formation of the "Hot Line," a telephone communications network that linked 150 recyclers throughout the Southwest. In time, he began to sell parts to the facilities involved with the "Hot Line" by catalog. Eventually, he dropped the "Hot Line" but continued to sell parts and eventually formed Brock Supply in the 1970's.
Today, the Brock Supply catalog services the whole United States, Canada and several other countries. The catalog, which began as small pamphlets and flyers carries 8,000 part numbers that Brock Supply stocks at their warehouse in Tempe, Arizona. Their storage facility covers 100,000 sq. feet, thanks to a recent addition of a 15,000 sq. foot mezzanine. All parts are housed on site and shipped directly from the facility. The additional space has helped to keep most items in stock and limit back orders to a minimum.
---
Charitable Taking the Arizona Division of the American Cancer Society Eats Up 95 Percent of its Budget With Salaries and Overhead
A self-educated man who made a fortune in the automobile-salvage business, Brock decided a few years ago that he wanted to make a significant financial contribution to a worthwhile cause. "I don't know why. But it was something in here," he says, gesturing toward his heart. As fate would have it, a friend asked him to join the East Valley board of directors of the American Cancer Society.