While just a kid, Jerry Brock started working in the early 1950's for his dad's auto dismantling business here in Tempe, Arizona. He later started his own auto parts business, Brock's Auto Wreckers, then later incorporated and eventually became Brock Supply.
Due to Jerry's past experience and knowledge of the auto parts industry, he implemented a telephone communications network known as the "Hot Line" in 1966 with his own company and a handful of other auto parts businesses as members of the line. At one time there were 150 auto parts recycling companies in Arizona, California, Colorado, Kansas, Nevada, New Mexico, Oklahoma, Texas, and Utah on the "Hot Line."
Soon after the "Hot Line" was started, Jerry expanded the business by selling supplies to members and then sending published sales pamphlets, flyers and eventually catalogs to the automotive industry throughout the United States, Canada and other foreign countries. The company catalog is an integral part of the business and is distributed to thousands in the industry. With the advent of the internet, Brock Supply is now able to offer an online catalog to provide up to the minute information on all products carried.
Visit our
In the Press
page for articles and videos about Brock.
---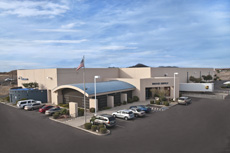 Tempe, AZ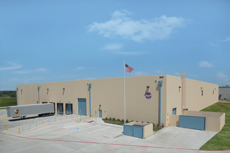 Terrell, TX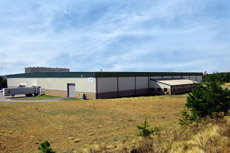 Danville, VA
Family owned and operated since 1960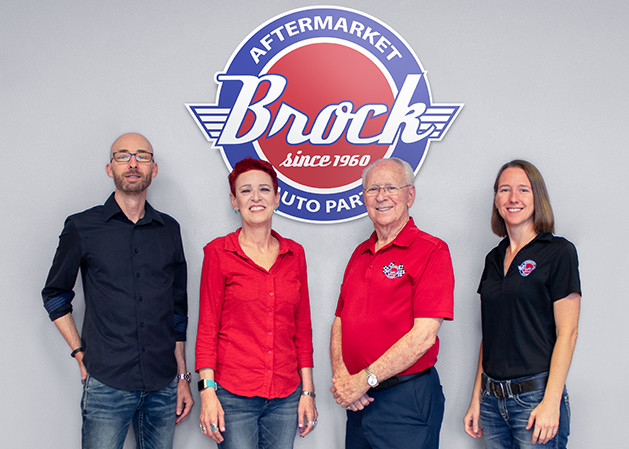 L to R: Brian Brock, Alex Vogel, Jerry Brock, Kirsten Lundell
---
Ordering
Businesses can order via phone, email, fax, or online - whichever is most convenient. All orders are shipped the same day they are received. Shipping is free for orders over $30. ($40 for drop shipments)
All order discrepancies and shipping damage must be reported within 14-days of delivery.
Warranty
Parts:
All parts are warranted against defects, malfunctions and other types of failures for a period of 12 months. For items you stock, that 12 month period begins on the day you sell the part. Items that are drop shipped direct to your customer have a 12 month warranty from the date of shipment from Brock Supply.
Supplies:
Supplies carry a warranty of 12 months from date of purchase.
Except where noted, if one of our products fails within the warranty period, Brock Supply will credit your account or ship you a replacement. This warranty covers the product price of the defective part and excludes labor, damages, shipping, and other costs. Abuse, misuse, modification, and incorrect installation are not covered under this warranty.
Satisfaction Guarantee
If you are not 100% satisfied with products purchased from Brock Supply, we will gladly arrange a refund, an exchange or credit your account. Simply call our Customer Service Department at 1-800-528-4400 option 3 for confirmation before returning merchandise or click here to process online.